PR & Media Relations Agency
The differential value of an agency is defined by its results.
Since 30 years ago in -RdM- Recursos de Mercado, we strive to do only and exclusively our best work and provide excellent services: Communication Strategies and Public Relations (PR).
When it comes to business communication and image, there are numerous ways that, primarly, lead to the desired place and, fortunately, each professional understands communication in a different way. Thus, when an agency is selected, it is not a name or a certain stage set that is being chosen, but rather a work philosophy and the way in which the company wishes to interact with its environment through the media.
When you decide to select a public and media relations agency, research an examine the results they have delivered to other clients, so that you can compare what each agency has to offer. For our part, we have over 1000 "media coverage and action reports" and all of them are at your disposal.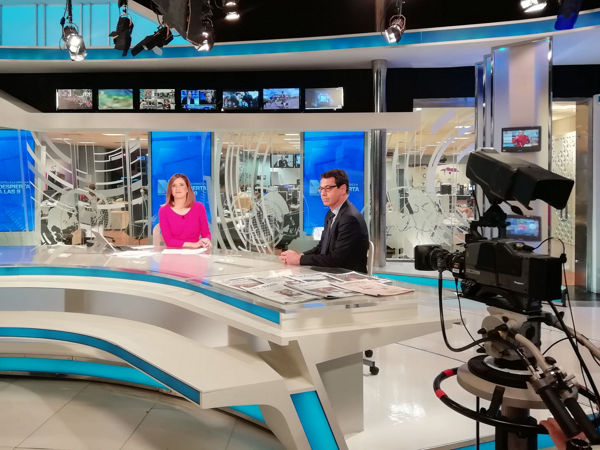 Who We Are...
We are specialists in communication and we have a very established staff of professionals, whom have allowed us to accumulate over the years, a high level of knowledge and experience in most of the sectors of activity.
We do not offer anything we are not absolutely sure about, nor do we get involved in any project that we are not clear about, both in terms of its approach and its viability.
More information
Because public relations is sustained by the seriousness, interest and creativity of informative proposals; by naturality, generosity and ethics in relationships; and by dedication, perseverance and a vocation for a job well done every day.
Mission, Vision and Values
Our mission is to work and take every opportunity to be able to offer the best of ourselves to our clients.
Our strategic focus is to bring quality to our clients, journalists and third parties of interest with whom we interact and our main tool is empathy and integrity:
Our vision is focused on knowledge and technologies that allow us to take advantage of the new opportunities offered by outside factors.
Our guiding values emanate from the conviction that public relations is based on the right of others to be informed.
Who We Are Not
Mission, Vision and Values that define our identity and differentiate us, both for what we are and what we do; and for what we are not and what we do not do.
"Sometimes people are better known for what they are not, than for what they say they are".
We are not "communication gurus"

Because the real specialists in the eyes of journalists and society in general should be our clients and not us.

We are not your strategic partner

Because we are your working team. A team that reviews the media (press, magazines, radio, television and online media) on a daily basis to detect topics of possible interest and adapt the strategy to the current news…

We are the ones who propose the most appropriate activities for each moment and circumstance. We gather information and interview your professionals to prepare or configure the content. We maintain contact with journalists in order to satisfy all their news requirements. We will assure that everything is ready and in order for your meetings with the press. We monitor your sector and your competitors, so that we are always up to date. We will maintain your knowledge of eventes and keep you up to date…

We are not a company specialised in lobbying

Because we limit ourselves to promoting or facilitating relations with professionals, organisations, associations, institutions or companies, with whom we share interests and goals. And to inform with honesty, transparency and rigour in order to attract the attention of society on specific problems, initiatives or projects that have a bearing on the general welfare.

We do not have "contacts" in the media who are going to publish about events or people who have nothing to say.

And if we did, we are not going to abuse the trust of our relationships. How many times do you think the "contact" is going to publish appealing to the strained relationship? Offering truthful and interesting information and you will see how we make friends instead of losing them.

We do not do CSR programmes

Because "CSR" is not made; you are either socially responsible or you are not. We believe that rigorous reporting is socially responsible and trying to "make up" reality is not. You can be socially responsible without supporting any team bonding and, at the other extreme, you can support team bonding and not be socially responsible.

We do not carry out "public education campaigns"

Because society in general has no need to be educated, let alone to try to guide its opinion. Public relations should be limited to providing truthful information that enables people to make their own decisions. Public relations is ideal for raising public awareness, making alternatives known, explaining paradigms, analysing pros and cons, providing new data, clarifying rumours, convey confidence in what is unusual or new, and not for creating confusion.

Our differential value is not crisis communication

The bases for solving an eventual crisis are laid before it occurs, by fostering a solid image that allows us to face it with certain guarantees of success. Let us dedicate just enough time to plan for the "unpredictable" and to organise everything we need to do to avoid it.

At Recursos de Mercado, we follow our clients very closely and monitor the opinion that is expressed about them, whether online or offline. When we detect a conflict or threat, we act immediately to avoid entering into a dynamic of negative perception towards the company, its professionals or its products, by specific groups or society in general.

We are not a full service agency

Public relations should be integrated and support all other communication techniques, but we also believe that those responsible for implementing the information strategy should not have any decision-making power over advertising investment.

We do not believe that public relations can replace advertising

Nor the rest of the communication techniques. Because leaving the building of a brand solely and exclusively to public relations is a mistake that, in most cases, is paid for with a very slow economic growth.

We do not belong to a multinational group or network.

Through hard work, perseverance and dedication we can guarantee our results. At the same time, with the guarantee offered by our total independence, we can represent the interests of third parties (consultancy firms, agencies or consultants) in their communication projects in Spain.

We are not a sectoral agency

Because we respect exclusivity agreements, we cannot specialise in a certain sector of activity. Therefore, we work for a limited number of clients in each sector.
Guarantees
Based on perseverance, hard work and dedication, we are one of the agencies that obtains the best results for our clients (a fact that can be easily demonstrated), which is why we can offer contractual guarantees that no one else can.
The accumulated experience of all these years makes us very confident of the overall results we are going to obtain, which allows us to offer, during the first year, a quarterly renewal collaboration agreement, instead of the annual or biannual one that is the usual practice in the sector.
What is the Cost?
Since February 1993, we have worked for more than 200 clients, from large multinationals to individual professionals, and we have never turned down an informative, interesting project for financial reasons. We are therefore in a position to assure you that we will reach an agreement.
We charge a fixed monthly fee which, depending on the estimated resources to be assigned, covers all the communication activities necessary to achieve the objectives set. See more
News and Opinion
This year marks the 100th anniversary of the publication of "Crystallizing Public Opinion", a book in which Dr. Edward L.…

Chapter of the book "THE CLIENT". Adventures and Misadventures of a Communication Agency. I still remember that cold March morning…

In 1923, Dr. Edward L. Bernays Freud, considered "the father of public relations", presented to the general public the general…