Since its creation and throughout this time, the consultancy specialising in communication and PR has developed communication strategies for large national and multinational companies, SMEs, individual professionals, town councils, public bodies, etc., belonging to all types of sectors.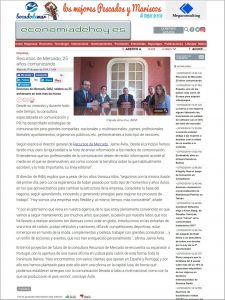 According to the general manager of Recursos de Mercado, Jaime Ávila, "from the beginning we have been very clear about the rigorousness of sending information to the media. We understand that communication professionals must receive information in accordance with the media in which they work, as well as knowing the subject matter they usually write about; and most importantly, their editorial line".
RdM's director explains that despite the years that have passed, "we continue with the same enthusiasm as on the first day, but with the experience of having gone through all kinds of hard times and years, in which we took advantage of the opportunity to change the company's structure, consolidate the business base, continue learning, innovating and generating synergies to improve work processes". "Today we are a more flexible and, at the same time, a more consistent company," he adds.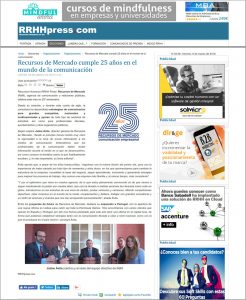 "And because of the optimism that reigns in our agency, what I am fully convinced of is that we will continue to maintain, however many years go by, the passion for our work, which has led us to carry out actions as diverse as flying in a hot air balloon, entering the bowels of a coal mine, testing vehicles and trucks, broadcasting sports competitions, being immersed in the world of fashion, accessories and beauty, working with major consultants … and an endless number of actions and events, which have enriched us personally," says Jaime Ávila.
Among the future projects of the consultancy firm Recursos de Mercado is its expansion into Portugal, with the opening of a new office in Lisbon to cover the entire Iberian Peninsula. "We have several clients operating in Spain and Portugal, and for this reason we have planned to open an office in the Portuguese capital this year, so that we can establish synergies with the communication carried out at a national level, as well as with that which takes place in the neighbouring country," concludes Ávila.